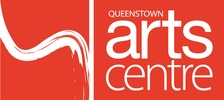 The Queenstown Arts Centre is located at the corner of Ballarat Street and Stanley Street in central Queenstown. It is housed in what was previously the Wakatipu High School science laboratories. The building contains the studios and the Wakatipu Pottery Group at one end and the workroom space and Cloakroom Gallery at the other.
The Cloakroom Gallery was officially opened in May 2004 by the mayor of the time, Clive Geddes, and long-time Queenstown Art Society member Molly Casey.
The Studios were an initiative of Spike Wademan, which became available when the Citizens Advice Bureau moved out to their current building. Under the guidance of the Queenstown Art Society (QAS), the Queenstown Lakes District Council was approached and the artists moved into the rooms with their easels and sewing machines. The Studios have proven very popular and are a great asset to the centre.
The Arts Centre is run by a dedicated group of QAS volunteers